How Can We Help You
Below is a list of questions about our products or services that will help you find answers to your questions quickly and efficiently.
We have divided questions and answers into FAQs sections that will directly address your question.
Please contact a customer service representative at your location if you cannot find a direct answer below.
ENROLLING IN SWIMMING LESSONS
> When should my child start with swim lessons?
Swimmers can start as early as 4 months old. We work with you to get your child water-wise and to learn life-saving skills as a baby in preparation for learning how to swim independently. Pengu also offers entry levels for kids from ages 2 to 12. So don't hesitate and give us a call now!
> How long does my child attend lessons?
Our focus is that your child learns all the skills necessary to become a proficient swimmer, with a strong understanding of water safety. We offer lessons on a perpetual basis. That means that you can continue to swim in our program as long as you want. If you decide that you want to take a break you would need to fill out a 30-day cancellation form. You can also cancel your lessons via our customer portal. The 30-day notice still applies.
> Do you offer private lessons?
Yes, we offer both private and semi-private lessons.
> How long is each swimming class?
Each swim lesson is 30 minutes.
> How many students are in each class?
Most of our classes have four students per instructor. However, we do have a few exceptions. Our Baby 1 & 2 classes have six students to one instructor and our Toddler 1 level has only three students to one instructor. Swim Academy has eight students per instructor.
> What do parents do while swimming lessons are conducted?
Parents have a perfect view of their kids taking swimming lessons. Being a truly indoor facility, our lobby is nice and air-conditioned. There is free WIFI and we have snacks available for purchase. It is required that all parents stay in the building while their swimmers are attending lessons.
> When can I sign up for lessons?
You can sign up for lessons anytime, via our customer portal. If you have any questions before signing up, you can give our call center a call to help you.
> How do I withdraw from lessons?
In order to cancel your lessons, Pengu requires a 30-day notice. Cancellation forms can be given to the front desk staff in person or can be sent via email. You can also cancel via our customer portal. The 30-day notice is still required. Unfortunately, we cannot accept verbal or faxed cancellations.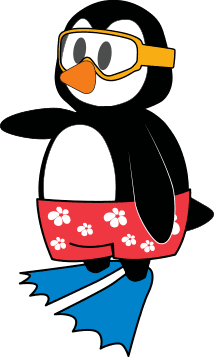 TUITION AND PAYMENTS
> Is there a registration fee?
Yes, there is an annual registration fee. The annual registration fee is $30 per child or $60 per family. The fee is due every year on the anniversary date of your first registration.
> How much do swim lessons cost per month?
Lessons are $86.00 per month for the first child. This is based on one thirty-minute group lesson per week, four total weeks per month ($21.50 per class).
There is a $81.00 per month discounted rate for the second child ($20.25 per class) and a $78.00 per month discounted rate for the third child ($19.50 per class).
If you choose for one child to take multiple group lessons per week, the same payment discount of $81.00 and $78.00 per month will apply.
**The total prices listed above are based on a four-week month. If your child swims a fifth class in the month, there will be an additional charge of $21.50 for the $86.00 per month class, an additional $20.25 for the $81.00 per month class, or an additional $19.50 for the $78.00 per month class.
> How do I pay for lessons?
You can pay by automatic debit from a checking/savings account or automatic debit from a credit or debit card. All payments will be debited/credited on the first of the month.
> Do you offer refunds or credits?
Due to our operational costs, we cannot offer refunds, credits, or transfers at Pengu Swim School.
HOW TO PREPARE FOR YOUR FIRST SWIM LESSON
> What do I need to bring to a baby swimming class?
We have a double diaper policy for all of our swimmers under the age of three years old. Every swimmer under the age of three is required to wear one disposable swim diaper underneath one reusable swim diaper. An actual swimsuit on top of the swim diaper is optional. You can also bring a towel for you and your swimmer to dry off after class.
> What do I need to bring to a Toddler Swimming Class?
For our Toddler level classes, the same diaper policy from above applies. You can also bring a towel for your swimmers to use to dry off after class. Goggles can be used but they are not necessary.
> What about allergies and who do I need to inform?****
When you sign up there will be a questionnaire. This is where you let us know about any allergies.
> What documents or forms do I need to fill out before my first class?
All information and documents are signed electronically via our customer portal.
> Is there WIFI?
Yes we have free WIFI available for use while watching their child's swim lessons.
SWIMMING SKILLS AND PROGRAMS
> What are perpetual lessons and why do I need them?
Perpetual swim lessons are swim lessons that repeat on a continual basis. There is a trusted relationship built between your child and their instructor that grows stronger with each lesson. When swimmers swim on a perpetual basis, it helps them to retain their skills easier. Our perpetual swim lesson system rewards your child for reaching the next level in swimming.
> How do I know which level to enroll my child in?
You can find out which level your child should be in by using our swimmer assessment on our homepage. If you happen to come into the building, you can speak with a front desk associate who can help you to figure out which level your child should be in. Each level at Pengu Swim School has a certain skill set.
> When does my child need goggles?
Students must first be able to save themselves without goggles in the event of an emergency before they are allowed to wear goggles during swim class. For most students in the Pengu program, this means swimming without goggles until they have reached the Intermediate level.
> May I speak with my child's instructor before or after class?
We ask that you speak to the Deck Supervisor or Front Desk staff if they need to relay any questions or concerns to their instructor. If it is a major issue, they can speak to a manager. If they have questions about their students' progress, they can refer to the customer portal to check their student's skills.
> Will my child have the same instructor every class?
Our aim is for your child to have the same instructor every class. There might be a time when your instructor has a conflict and may not be able to attend but ideally, each student will have the same coach every week.
> How do I track my child's progress?
You can track your child's progress via our iClassPro customer portal.
> What if my child advances quickly can they move up to the next level?
Each certified instructor will make the evaluation and the Pengu Swim School front desk will communicate with each parent if their child is ready to move up to the next level.
SCHEDULING CHANGES
> How do I change my day or time?
You can change your child's day or time via the iClassPro customer portal. If you are having difficulties finding class times, you can reach out to the front desk of your location via the Pengu Swim School Call Center.
> If I want to cancel my lessons, can you guarantee that I will get the same time, day, and teacher when I return?
Once you cancel your lessons, that spot becomes available for another student. If you are only going to be out a few weeks, we suggest that you mark your child absent via the iClassPro customer portal. Once you've missed the class, you will receive a make-up token that you can use to book into a make-up.
> What happens when a teacher's schedule changes during the course of that year, but I can't change my day and time?
At Pengu, all of the teachers and staff have been through an extensive training process. All swim instructors are qualified to teach each level. No matter who your child's teacher is, he or she will be in good hands!
> Do you offer make-ups for missed swim lessons?
Yes, we offer make-up classes. If you are going to miss a class, you must mark your child absent via our iClassPro customer portal or call/email us to let us know that you'll be missing your class (at least 30 minutes before your child's class). Once your child has missed their class, they will receive a make-up token to be used for their make-up class. You can then book into any available class in your child's level. Make-up tokens expire after 90 days.
> If we are going to be traveling can Pengu Swim School prorate the cost of my swimming lessons?
If you are traveling, you can mark your child absent and receive make-up tokens for missed classes. However, Pengu does prorate for holidays. So, if your lesson falls on a holiday and we are closed, we'll prorate and you won't be charged for that class.
PENGU SWIM ACADEMY
> Do you have a swim team?
YES! Pengu students are eligible to join the Pengu's Swim Academy with instructor approval once they've made it through the Pro level.
> What opportunities does your swim team offer?
Swim Academy is focused on enhancing what your child has already learned. Members of Swim Academy are able to utilize the whole pool. Pengu holds swim meets three times a year for members to participate in. Swim Academy swimmers can also partake on Fit by Swim. Fit by Swim gives these swimmers an opportunity to "drop in" on other days (beside their actual swimming day) to get in an extra workout.
> What is an Open Swim?
Open Swim allows swimmers and their families to use the pool for "fun-only" while positively fostering a relationship with our facility and water enjoyment. We have a variety of aquatic toys available for your use. Open Swim is also a convenient way to reinforce the ideas and skills covered in your child's class while having a great time. And the best part, mid-day Open Swim (Monday through Friday 12pm-1pm) is always free to currently enrolled students. Friday Night Open Swim is $5.00 per person or $15.00 per family. Children that cannot swim independently must be accompanied by an adult in the pool and wear a Pengu approved life vest. Due COVID-19, Pengu is currently not offering Open Swim.
FACILITIES
> What is the temperature of the water in the pool?
The water is always kept at 90 degrees for the comfort of your child.
> What kind of training or certification do the instructors have?
All Pengu instructors are Red Cross certified in lifeguarding as well as CPR/AED. Every Pengu instructor goes through intensive training to learn the curriculum. It is a mix of on land book training and in water hands-on training. Pengu Swim School is also a member of the National Drowning Prevention Alliance, Swimming and Water Safety and US Swim Association.
> Are the lifeguards certified?
Yes all of our lifeguards and instructors are Red Cross certified.