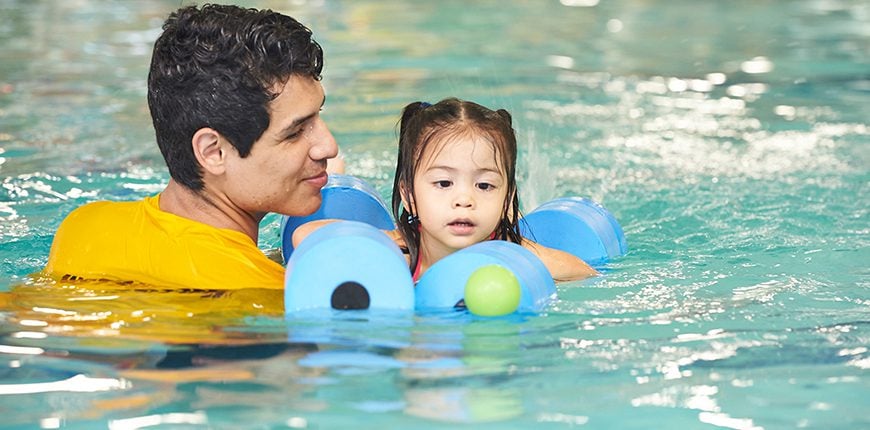 Toddler 1 (2-3 years old)
Swim Lessons for Toddlers 1
Swim lessons for Toddlers 1 level focus on comfort, acclimation, and safety for toddlers. In this level, students are introduced to bobs, glides, and floating on their backs. Swimmers will also learn safe behaviors like attempting to self save.
Other skills include comfort swimming underwater, support in the floating position, and kicking ability. When the swimmer is comfortable in the pool (swimming underwater and floating with the instructor), demonstrates safe behavior (sitting on the step independently and listening to the instructor), and displays kicking ability, the swimmer will be ready for Toddler 2.
3:1 student/teacher ratio/ 30 min. classes
Here are some answers to some common questions about toddler swim classes.
Q: What is the best time for toddlers to learn to swim?
A: Our classes for toddlers are suitable for children aged between two and three years in age. 
Q: What swimming skills do toddlers learn at Pengu Swim School.
A: Certified swim instructors teach the following – Toddler learns to float, glides, and bob. Toddlers learn water safety and drowning prevention skills such as Humpty-Dumpty.
Q: How long are the swimming lesson for children.
A: Our swimming lessons for children are 30 minutes long.
Q: Are Toddlers learning freestyle and backstroke?
A: No, Toddler swim lessons do not focus on competitive strokes.
Q: Are infants and toddlers mixed in a swimming lesson?
A: No, swimming lessons for Toddlers are focused on kids at the age of two to three years old.
Q: What is the best time to learn to swim?
A: Our top-rated swim school can start to teach children swimming skills as young as 4 months.
Q: What does the American Academy of Pediatrics suggest for swimming lessons for Toddlers.
A:  Here is a link to Swim Safety Tips from the American Academy of Pediatrics.
Q: What is the top swim school for toddlers near me?
A: Pengu Swim School has three locations in the Houston area. We have indoor swim school facilities in Sugar Land, Cinco Ranch, and Houston for toddlers.